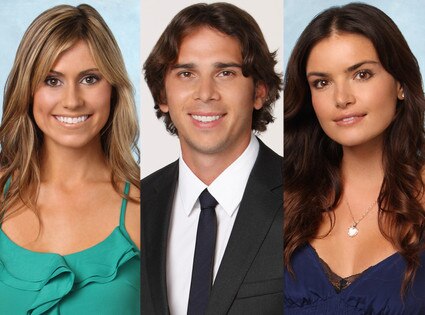 It was time for Ben Flajnik to step up on
The Bachelor
tonight. And by step up, we mean kneel down. For the second time in his life, the winemaker from Sonoma, Calif., popped the question on TV. The only question (if you can call it that, thanks to all the spoilers waved in our faces) was whether he offered up the Neil Lane rock to Lindzi Cox, recipient of the first-impression rose on day one, or Courtney Robertson, the recipient of animosity from every other woman who vied for Ben's affections this season.
"The girl that generally doesn't get along with the other girls, that's kind of a red flag," warned Ben's protective sister Julia—who, understandably, may have still been a little shell-shocked from the first time she questioned a potential fiancée on her brother's behalf. But did Ben see it that way? Without further adieu, we introduce the lady he put a ring on... The future Mrs. Courtney Flajnik!
We're obviously getting a little ahead of ourselves here (the After the Rose ceremony is yet to unfold, after all), but Ben did indeed propose to Courtney in what had to be the most poorly kept finale twist in Bachelor history. The morning-after ratings will tell whether Courtney controversy was enough to keep fans engaged, so to speak, or if it just wasn't worth it to them to see Ben's seemingly ill-fated choice through to the end.
"I want you to know," Ben began atop the Matterhorn, "that I think you're an incredible woman. But I promised myself that I wouldn't get down on one knee again unless I was certain it was forever and I want to tell you that...you are my forever. You're my forever." And then Courtney let out this gasp that we're pretty sure was an emotional cry of joy. We'll give her the benefit of the doubt that she wasn't stifling a laugh.
"I will love you forever," she told Ben after he had slipped the ring on her finger and asked for her hand in marriage. "I will love you forever," he said. "I'm so glad you said yes," he told her breathlessly as they kissed in celebration. "Oh, really?" she replied playfully. "Did you have any doubt?" "Well, you never know," Ben said, obviously speaking from experience.
MORE: Dancing With the Stars Jilts, But Doesn't Crush, The Bachelor
But back to poor Lindzi for a second. Dressed in black and a forest-green cloak that made her look a little like a fairy-tale princess about to be abandoned in the woods, she was first out of the helicopter that was needed to drop the aspiring Mrs. Flajniks atop Switzerland's famed Matterhorn. "It turns out, I fell in love. I love you," Lindzi earnestly, yet ultimately fruitlessly, told Ben on their last date. To which he replied...wait for it..."That's good."
"I see a life with you, I want to make a life with you...I want to be a great fiancée...I'm ready for this next step," she continued. Ben admitted in retrospect that he wanted to say "I love you" back, but didn't think it would be fair because he still had his date with Courtney coming up. "Thank you for opening up and getting to the point where I thought you could get to," is what he told Lindzi instead. "I've been waiting for this moment...I realize it has taken much more time, based on your life and your experiences. It's a good thing."